Denise Grimsley and Amy Lockhart are illegally sending bulk political SMS messages in violation of the TCPA with penalties of over $16,000 per text (pdf).  These campaigns have sent out thousands of messages to cell phone subscribers.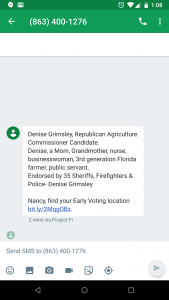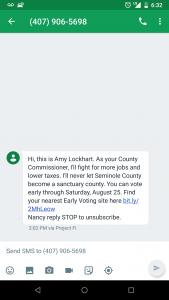 Here are both of the offending SMS messages I've received on August 19th and 23rd respectively.  But how can we tell these are bulk automated messages?  Let's review the statistics for the bit.ly links in both messages.
Denise Grimsley bit.ly click statistics

Above are the bit.ly link click statistics for the Denise Grimsley text, which you can view here.  My message was received on August 19th at 5:06PM UTC – at the beginning of the large bar.  Keep in mind this shows when the link was clicked, not when the message was received.  I find it likely the messages were received within a one hour time period, which would have started in the 4PM hour and ended in the 5PM hour.  This would produce a curve with a high initial peak and a roll-off effect consisting of those who did not check their messages immediately.

When you view the bit.ly statistics rolled up to a daily view, the roll-off effect continues.  The abrupt end to the graph is when bit.ly added the warning to the link that the content may be spam or malicious.
In order to estimate the total number of messages sent in this one hour batch, we can assume the standard SMS click-through rate of 20%.  With 1,616 clicks, it is likely this batch consisted of 8,080 SMS messages.
Amy Lockhart bit.ly click statistics

If there's one thing I regret in all of this, it is that I didn't save the original hourly click chart.  However, you can view the current link statistics here.  My message was received on August 23rd at 7:02PM UTC.  While both the hourly and daily charts showed the same patterns, this batch of messages was on a smaller scale.  With 213 clicks, it is likely this batch consisted of 1,065 SMS messages.
Denise Grimsley's Let's Grow Florida SMS campaign funding
If we follow the bit.ly link provided from the Denise Grimley SMS, it leads to letsgrowflorida.org.  Let's Grow Florida is a PAC which was formed on May 15th, 2018, and is based out of 115 East Park Ave, Suite 1, Tallahassee, FL 32301.  It was funded from five other PACs with a majority of the contribution coming from Saving Florida's Heartland, which is located at the same address.
This allows Let's Grow Florida to use illegal campaign marketing without fear of being held accountable in a class action lawsuit for violating the TCPA.  With over 99% of it's funding coming from five other PACs, it has a total of $408,500 available for this purpose.  The contributions can be reviewed here.
Denise Grimsley's Let's Grow Florida SMS campaign expenditures
[table id=2 /]
Here's the complete list of expenses for Let's Grow Florida as of August 26th, 2018.  The payments to Denise Grimsley are reimbursements for 27 hotel room stays from the end of July and beginning of August, as well as her rental car.  You can review this list yourself here.
Let's Grow Florida contracted JHSM Holdings to perform their illegal SMS campaign, giving them a total of $24,906.16 for phone messaging.  Unfortunately, JHSM Holdings doesn't have a website or any presence online.  Our closest link to them is their address listed in the expense report – 779 Downing St, Teaneck, NJ 07666.  On Google Maps, this address leads to a single family home, with one five star review.
Attempts to enforce the TCPA for Amy Lockhart
I reached out to Amy Lockhart and received a response from Ryan Smith, who works on Amy Lockhart's campaign.  His response was:
The text message that was sent was sent manually by our vendor, not automatically, which fully complies with federal regulations. No TCPA violation occurred. Please see attached letter from our vendor's attorney for more information.
Who is the vendor?  The same JHSM!  You can read that letter here.  In this attorney's letter, they state "The FCC has also long held that the basic functions of an ATDS are to "dial numbers without human intervention" and to "dial thousands of numbers in a short period of time.""
While it is clear that JHSM has dialed thousands of numbers in a short period of time, I don't think they realized the proof was in their bitly links.
I tried calling the attorney Adam Losey Friday afternoon, but they didn't answer.
Attempts to enforce the TCPA for Let's Grow Florida
The first action I took upon receiving this text was reaching out to the abuse department at the domain provider GoDaddy as well as to bitly to report the link and website as spam.  While the website remains intact, the bitly link at least warns visitors of its malicious intent.
JHSM has planned for this.  They create a single bitly link and send it to thousands of cell phones within a one hour period.  However, once that batch has been sent they will create a new bitly link for the next batch.  By the time a link has been flagged as spam in bitly it has already served its purpose.
I've reached out to Garret, Jeff, and Hannah from Denise Grimsley's campaign on August 19th.  They have not responded.  I have called Coates Law, which happens to be located at the familiar 115 East Park Ave, Suite 1, Tallahassee, FL 32301, and is also listed in their expense report but they did not answer.
Conclusion
While I don't think we've reached the end of this story, I will leave you with this.  A New York Times article from May 6th, 2018 featuring Denise Grimsley advocating about how problematic robocalls are for her constituents.